1924

HILDA

2003
1920

EVERETT

2010
~EFM & HTM3~
"TOGETHER AGAIN"

MOM & DAD'S WEDDING DAY
MAID OF HONOR: MARILYN MENICE (EVERETT'S SISTER)
BEST MAN: MANNY MEDEIROS (HILDA'S BROTHER)


OUR 50TH WEDDING ANNIVERSARY
SEPTEMBER 13, 1991



THIS IS THE BOOKMARK I HAD MADE FOR DAD/GRAMP

BROUGHT TO REST WITH HONOR 5/14/2010


ANNE MARIE CALLED DAD "HER BUDDY"
DEBBIE AND DAD CALLED EACH OTHER "BRAT"

DIANE CALLED DAD "CHARLIE"
HE CALLED HER "SOPHIE"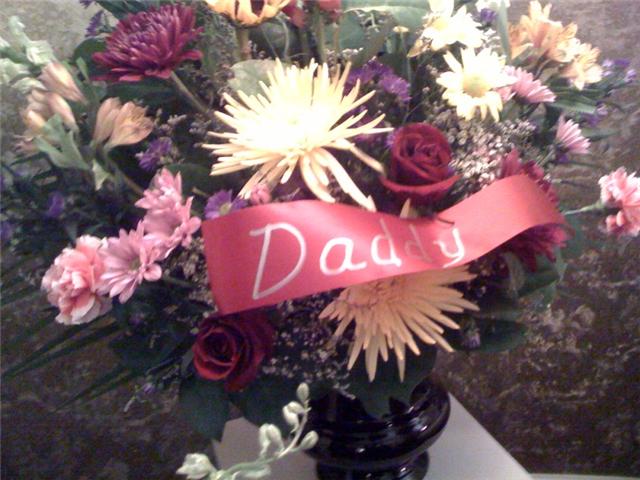 GAIL ALWAYS CALLED DAD "DADDY"
TO OUR GRAMPY!!

THE SALUTE DAD RICHLY DESERVED


THE FLAG BEING FOLDED TO BE PRESENTED TO DADS FAMILY


TAPS BEING PLAYED IN DAD'S HONOR-BEAUTIFUL

OUR DAD JOINED OUR MOM-TOGETHER AGAIN

WOW, WHAT A HANDSOME MAN!!

OUR DAD'S COLLAGE

FATHER JIM HOLDING & BLESSING BRENNAN
AFTER HE BLESSED DAD WITH THE
LAST RIGHTS

Mom & Dad's 50th Anniversary


Mom & Diane



Merry Christmas Mom! 2001

Uncle Manny & Josh, & Mom

MOM IN GILITEEN AT DISNEY 1990




Gail's Anniversary party

Mom & Dad with Christmas Around The World



Dad, Bob & Mom-Orlando, Disney-1990


Mom, Anne & Dad at Gail's Anniversary


THIS AWARD IS DEDICATED
TO OUR MOM FOR ALL THE
GENEROUS, OUTSTANDING
DEEDS SHE DID FOR SO
MANY PEOPLE. SHE PUT
EVERYONE BEFORE
HERSELF. SHE WAS OUR
ANGEL ON EARTH.

Terry, Mom, & Gail

Mom & Anne Marie-Reed St

Week of June 15, 2003

Cross Embedded in Mom's Grave-Thanks for the Miracle
ONE OF THE BOUQUETS OF FLOWERS
WAS A BEAUTIFUL CROSS WHICH WAS
FROM OUR DAD TO OUR MOM.

ONE OF MY SISTERS SUGGESTED THAT
WE EACH TAKE A FLOWER FROM
ALL THE FLOWERS AT THE GRAVE SITE
AND PLACE IT ON MOM'S CASKET.

I THOUGHT IT WOULD BE VERY SPECIAL
TO TAKE A ROSE FROM THE CROSS
FROM MY DAD TO GIVE MY MOM.
I THEN, TOOK A ROSE FOR EACH
OF MY SISTERS, AND MY BROTHER,
AND MY DAD FROM THIS SPECIAL
CROSS OF FLOWERS.

WHEN THE TIME WAS RIGHT, EACH OF
US PLACED THE ROSE ON MOM'S CASKET.

AS DAYS WENT BY, AND THE FLOWERS
DIED, AND WERE REMOVED FROM
THE GRAVE-SITE,
IT WAS REPLACED WITH GRASS SEED.

INDEED, GREEN GREEN GRASS
HAS GROWN ON THE SITE,
ALL BUT WHERE THE
CROSS OF FLOWERS WERE LAYING!

AS OF AUG. 24TH, 2003,
AS I FINISH CREATING THIS SITE
IN HONOR OF
MY MOM, THE CROSS IS STILL
DISTINCTLY BURNT INTO THE GROUND
WITH GREEN GRASS AND FLOWERS
ALL AROUND IT.

THIS IS DEFINITELY A VERY
SPECIAL GIFT, AND
MOM, THANK YOU FOR THAT.


Beautifully Decorated just the way Mom (Hilda)
would want it.
PERFECT!-2003
Thanks to all that put flowers, especially Dad.
Thanks Dad, for all the wonderful caregiving
your STILL giving Mom
(Love, Anne Marie)


Aug. 2001


HOW PROUD DAD IS TO RECEIVE AN AWARD PLUS THE
CHECKERBOARD COOLER FROM RALSTON PURINA

SORRY, NOT A GOOD PICTURE. DAD WITH HIS PELLET GUN?

COFFEE ANYBODY??

DAD LOOKING DAPPER AT DANNY & KERRY'S WEDDING

Anne Marie & Mom 1995/96

Mom, Dad, Nana & Uncle Joe, & Uncle Manny, & Aunt Hilda
50th Anniversary



Mom & Dad's 50th
(Dad's look..."See, I told you I could dance!")

Mmmmm....Good Cake!

Blurry, but Precious! 50th Anniversary cutting the cake

Mom & Dad at the VFW while Danny played

Mom & Dad's 50th

Cutting the Cake! 50th

Mom at Danny's House in Pleasant Field (Michael Road House)
May, 1989

MOM & DIANE IN HAWAII 1986

ONE YEAR ANNIVERSARY

JULY, 2004

DAD VISITING MOM ON 9/11/04

DAD WATERING MOMS FLOWERS-9/11/04

CHRISTMAS AROUND THE WORLD FUNCTION.
MOM IS POINTING OUT DAD'S RIBBON-AWARD

MOM IN HAWAII

MOM, STEVIE, & MISSY AT A BIRTHDAY PARTY

MOM-PROUD OF HER NEW RADIO SHE GOT
FOR CHRISTMAS 1987

Mom opening present 1986, with:
(left to right)
Diane, Karen,Christina, Jessie, Elizabeth
Mom, Missy

MOM HIT THE JACKPOT!! CHRISTMAS 1986-LOVIN THIS GIFT!!





NANA MENDOZA, UNCLE FRANK (Nana's brother)
LORRAINE & BOB CASTRO-1985

NANA MENDOZA (MOM'S MOM_ CELEBRATING WITH A CAKE!
1985

MOM HAVING A PARTY-1986
DIANE, KAREN, CHRISTINA, JESSIE, MOM, DANNY, TERRY, MISSY

MOM ON VACATION SOMEWHERE

MOM IN HAWAII-NICE!

DIANE, MOM & DAD

MOM & DIANE AT CHRISTMAS AROUND THE WORLD CONVENTION (HAWAII???)

MOM & DAD WITH THEIR WONDERFUL CHRISTMAS AROUND
THE WORLD CONVENTION.

MOM WAVING, WITH THAT GORGEOUS SMILE
AUNT BETTY, NANA & DAD-MAY-1985

MOM & NANA SITTING ON THE STAIRS TOGETHER, 1979

GORGEOUS PICTURES, & MEMORIES!!
LITTLE GIRL: DIANE
WITH MOM & NANA MENDOZA

MOM PREGNANT WITH "MAYBE" GAIL.
THIS IS AT OUR COTTAGE IN ASSONET.

MOM WITH THE GREEN DODGE WAGON IN RAYNHAM

MOM & DAD'S WEDDING DAY
MAID OF HONOR: MARILYN MENICE (EVERETT'S SISTER)
BEST MAN: MANNY MEDEIROS (HILDA'S BROTHER)


MOM SITTING IN HER FAVORITE CHAIR IN LIVING ROOM.
DON'T KNOW DATE, BUT IT WAS BEFORE SHE GOT THE MATCHING
RECLINERS

DANNY, MOM & DAD EASTER DAY 1992
JESSICA MAY BE ON THE FAR LEFT

NANA & UNCLE JOE

MOM & LITTLE STEVIE
FALL 1984

NANA MENDOZA

HANDSOME EVERETT-HILDA'S HUSBAND
"OUR DAD/GRAMPY"

MOM & DAD ON THE CRUISE!!
1987

DAD AT ONE OF HIS FARMS FOR RALSTON PURINA IN THE 50'S ??

STEVE & MYRLITA NOVEMBER, 2007 IN THE PHILLIPINES

STEVE NOVEMBER 2007 IN PHILLIPINES

DANNY & KERRY'S WEDDING AUGUST 18, 2007

DAD, LOOKING LIKE A MILLION BUCKS AT
DANNY & KERRY'S WEDDING AUG. 18, 2007

Pages:
0=Mom & Dad's Opening Page)
6=Mom & Dad's Holiday Page
7=Mom & Dad's Guest/Message Book
8=Dad's Obituary & Silva's Online Guestbook
OR
BACK TO ANNE MARIE'S MUSIC SITE